Dr Winston Camargo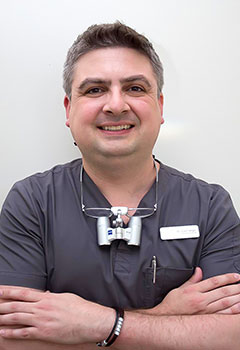 Dr Winston Camargo
DDS, MSc(Perio), MDM(Perio U. Porto-PT), PGrd. Implant (ITI-PT), PhD(cand. RadboudUMC-NL, 2020)
Specialist in Periodontics
Clinic Hours:
Tuesday: 09.00 – 17.00
Office Hours:
Monday – Friday 09.00 – 17.00
Mr. Winston Camargo qualified in Dentistry from the University of Ponta Grossa (Brazil) in 2003 and then completed a 3-year full time Master's Degree in Periodontics in 2006. In 2010, he commenced a two year, Post Graduate Degree programme in Implant dentistry under the direction of Dr Manuel Neves in Oporto, Portugal.
After receiving his second Master's degree, he worked in practice limited to Periodontics and Implant dentistry at the clinic of Prof. Dr Manuel Fontes de Carvalho, founder of the Portuguese Dental Council, Professor and Prorector at the University of Porto.
In 2014 Mr. Camargo commenced the PhD programme at Radboud University, Netherlands. Radboud University is a world leading institution in the study and development of new bone substitutes and dental implants. He has a special interest in the behaviour of different dental implants and bone substitutes in patients with compromising conditions such as diabetes and osteoporosis.
Winston has worked exclusively in the field of Periodontics for more than 15 years, completing thousands of periodontal cases, which makes him an EXPERT at giving you healthy teeth and gums.
Member of American Academy of Periodontics and the European Federation of Periodontics, Mr. Camargo works clinically at Northbrook Clinic in Dublin, at Southeast Dental Solutions in Waterford, and as Clinical Supervisor at Dublin Dental University Hospital.
Services Include:
Treatment of Periodontal disease and maintenance
Bone augmentation (vertical and horizontal)
Tissue preserving extraction plus socket grafting
Connective tissue grafting
Crown lengthening
Guided bone and tissue regeneration
Aesthetic Periodontal surgery
Visit Our Website