When should I bring my child to see an orthodontist?
Dr. Maghnus O'Donnell addresses a question that often concerns parents:
When should I bring my child to see an orthodontist?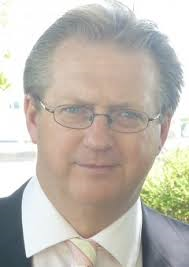 Birth
Generally more severe dental and orthodontic malocclusions such as cleft palate and some facial syndromes are very obvious at birth or very soon afterwards and the consulting paediatrician that will examine your child in the hospital will refer you, if necessary, to the orthodontic unit of the hospital system to commence the preferred treatment.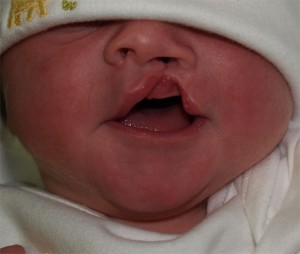 Cleft lip in a newborn baby
Aged 6 years
Although some orthodontists like to examine patients at aged 4 years generally aged 6 is a better time as the permanent upper and lower incisors are erupting at this stage, as are the first permanent molars.
At this stage we would recommend that your dentist refer you to an orthodontist for an assessment as treatment such as cross-bites ( upper teeth inside the lowers ) can easily be rectified and save more complicated treatment at a later stage. Cases with small upper jaws often associated with a skeletal narrowing can also be treated by expansion at this ideal stage, thereby expanding the upper arch and making more room for the permanent teeth and reducing the need for extractions. Habits such as thumb and finger sucking should be stopped at this stage, if not earlier.
Many simpler or just crowded cases may not be ready to start at this age but your orthodontist can advise of possible future treatment and planning for this can be implemented.
We would recommend that you see a specialist orthodontist at this stage.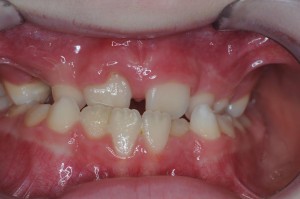 Cross-bite  is  a  6 year old  boy.
Aged 8-10 years
At this stage your child will still be in the mixed dentition ( ie have adult and primary teeth at the same time).
At this stage cross-bites as in the above stage can still be corrected but more severe skeletal problems where there is mismatch of the jaws can be treated by Growth Modification with the use of Functional Appliances which are difficult to wear but excellent at correcting very prominent upper teeth where there is also a problem with a small lower jaw.
Also at this stage your child will have the position of the canine or 'eye teeth' assessed and if in a poor position, particularly if positioned in the palate, the extraction of the primary canines can improve the position of the adult canines in specific cases.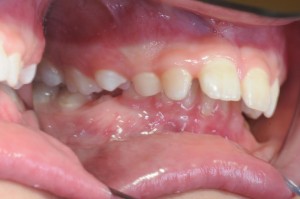 Severe  case requiring Growth Modification
Aged 11+
This is the stage where your child is in the adult dentition and will have comprehensive orthodontic treatment, if needed. This may be as simple as a removable appliance or more complicated requiring fixed appliances ( 'tracks' ) or more recently clear aligners are available for the more simple cases ( treatment such as 'invisalign –teen').
If you have an issue with your child's teeth we would suggest you be at least assessed at this stage.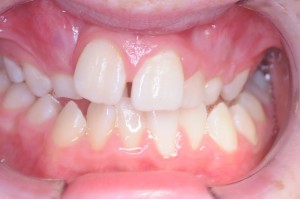 12 year old  boy with crowding
Adult
With newer techniques most adults can be treated at any stage of their lives. Treatment may be complicated by loss of some teeth, pathology, crowns etc and possibly skeletal pattern but the vast majority of cases achieve good results.
Aesthetic options such as ceramic brackets, smaller brackets, lingual appliances and clear aligner systems exist which can achieve your perfect smile.
We would recommend that if you have crowding, poor bite, spacing or prominence issues with your teeth that you see a specialist orthodontist to discuss all your options.(All orthodontists on the Orthodontic Society of Ireland Website are Specialists).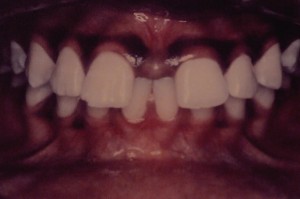 Adult case with significant spacing
Dr. Maghnus O'Donnell
B.A., B.Dent.Sc., M.Sc.(univ of Lond), M.Orth.RCS (Eng), M.Orth.RCS(Ed)
Orthodontic Specialist
OSI Orthodontic Society of Ireland Council