Mr Colin Riordan Warns of the Hidden Dangers of Tag Rugby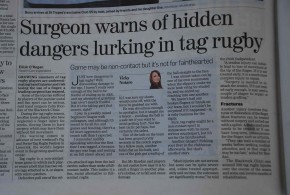 Irish Independent, Saturday, 6th July 2013
Mr Colin Riordan, Consultant Plastic and Hand Surgeon, at the Northbrook Clinic, warns of the hidden dangers of playing tag rugby.
Tag rugby is a non-contact team sport where teams pull tags off the other team's clothes instead of traditional tackling.
Mr Riordan warns that players simply don't realise how easy it is to catch a finger in another player's clothes whilst trying to pull the tag. Players often underestimate any hand injuries they receive and don't look for treatment for many weeks leading to complications.
Quoting from the Irish Independent Mr Riordan says, 'Most injuries are not serious, but some can be quite severe and unless treated appropriately and on time, the outcomes are significantly worse'.