Want younger looking skin? Try Fraxel Laser Rejuvenation at The Aesthetic Institute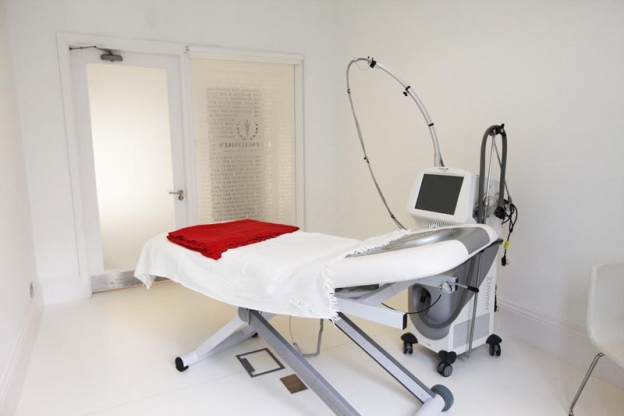 Fraxel Laser Rejuvenation
What is Fraxel re:store®?
Fraxel re:store® is a safe, non-invasive laser skin treatment that can resurface damaged skin, uncovering the skin of youth.
How does it Work?
Fraxel treatment uses patented fractional technology to target damaged skin with microscopic laser columns that penetrate deep into the skin. The laser treats only a fraction of tissue at a time, leaving the surrounding tissue untouched, which promotes rapid healing. This stimulates your body's own natural healing process, replacing the old and damaged cells with fresh, glowing, healthy skin.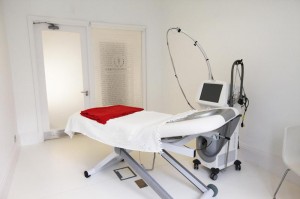 Who is this treatment for?
Fraxel laser treatment is for anyone who wants the following:
-Smoother, fresher looking skin
-Improved tone and texture
-Reduced unwanted age spots, sun spots, pigmented lesions
-Reduced wrinkles around the eyes
-Improve appearance of acne scars and surgical scars
-Results are immediate and progressive
-Results improve over the course of treatment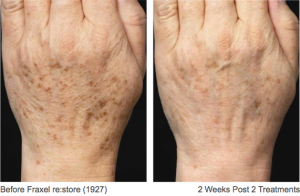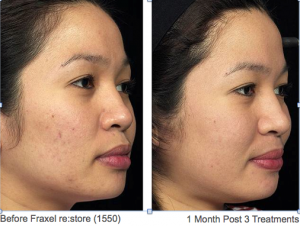 What is the Experience Like?
Most patients describe feeling a sensation of heat during the treatment. A topical anesthetic agent or cold air may be used to minimize this. Afterwards, most patients feel like they have sunburn, which normally diminishes after a few hours. There can be some swelling and redness for 2-3 days, but these are typically minimal. Some patients experience minor itching, dry skin, peeling or flaking, bronzed skin. These after effects will vary from patient to patient and depending on the intensity of the treatment.
Below is a list of typical prices for a course of treatment for areas that are commonly treated. *However, as each course of treatment is tailored to the patient, these costs may vary slightly. The Consultant Plastic Surgeon will confirm the final price for your particular treatment plan before your treatment begins.
What is the downtime with this treatment?
Downtime with Fraxel is minimal. Some patients report a slight sunburn feeling post treatment. Generally, patients can return to their normal routine with peeling and flaking for between 1-4 days.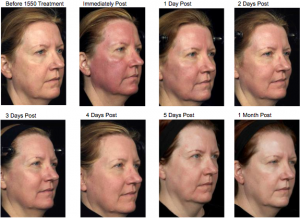 Post Treatment:
• Do not rub, scrub or exfoliate treatment area
• Use ice packs (optional)
• Sleep elevated first night
• Keep area clean and keep clothing away to avoid irritation
• Avoid vigorous exercise, perspiring, swimming, etc.
• Avoid smoking and excessive alcohol consumption
• Drink plenty of fluids
• Use bland moisturizer and mild cleanser
• Resume normal skin care regimen if irritation not present
• Strict adherence to sun protection (SPF 30+)
• Avoid direct sun exposure for at least 1 month
Expected effects following treatment are:
• Redness: Days 1-3 (peaking on day 1 and 2)
• Bronzing: Days 1-4 (pigment transported to surface)
• Desquamation: Days 3-4 (removal of old skin)
Potential negative side effects and complications include prolonged redness, swelling, blistering, scarring, infection, pigmentary changes (hyperpigmentation), herpes reactivation and acne flare-up.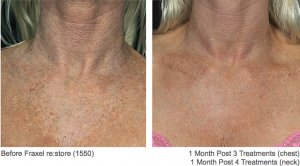 Fraxel Laser (Course of Treatments):
Eyes                                                     €400
Upper & Lower Lip                            €400
Décolletage                                        €650
Whole Face                                        €800
Whole Face & Neck                          €1,100
Whole Face, Neck & Décolletage  €1,500
Back of Hands                                    €500
By Mr Colin Riordan
FRCSI(Plast), EUR.DIP HAND SURG (FESSH)
Consultant Plastic (Aesthetic & Reconstructive) Surgeon