Non-Surgical Procedures at The Aesthetic Institute

Non-Surgical Procedures
Achieving excellent results doesn't have to mean going under the knife. Enhance and optimize what you already have with our Non Surgical Procedures that will have you looking and feeling your best without the down time of surgery.
Here at The Aesthetic Institute patient safety is a top priority for us. We have qualified and experienced Consultant Plastic Surgeons who use the latest techniques and medical equipment. We also have a Skin Adviser and Therapist performing treatments with our exclusive AK product range, and we offer a full range of aftercare products to compliment your treatment.
Sometimes clinic lingo can be a bit off putting so let us take you through each procedure and explain exactly what they are.
Botox Injections
Here at The Aesthetic Institute, Botox injections are very popular and most people will have heard something about them. Botox is used to block the nerve impulses to the tiny facial muscles that cause wrinkles when they contract. It does not affect other muscles or normal facial expressions contrary to belief; it may however take a couple of months for the effects to settle. It smoothes out lines and wrinkles wherever it is injected and prevents the skin from further wrinkling. Areas that are typically treated include the eye area for crow's feet, frown lines, eyebrow elevation, marionette lines on the chin, forehead and neck bands The results of the injection normally last for 6 months but can depend on each individual. The cost for this treatment is €300 for one area, assuming a typical amount of Botox is used. For additional areas the cost is €150.
Botox can also be used for hyperhidrosis, or excessive sweating under the arms, on the palms of the hands and on the soles of the feet. It is injected into the skin and blocks the nerve impulses to the glands that cause sweating. Again the effect of the injection last 6 months but does depend on each individual. The price for this treatment is slightly more expensive as a larger volume of Botox is needed. It would typically cost around €500 and is administered by our Consultant Plastic Surgeon
Aside form these treatments, Botox can also be used to treat a gummy smile. It is used to treat the muscles that control the lip in a similar way to wrinkle or sweat prevention. The effects of the first treatment typically last 4-6 months. This does vary from patient to patient, but many people find the effects last slightly longer with each treatment. The cost of Botox treatment in this case is €300.
 Dermal Fillers
Dermal Fillers are biodegradable gels made of hyaluronic acid, which is naturally found in the body. They are injected into the skin to reduce line and wrinkle depth, or to alter the contours of a particular area by adding volume to plump out areas of the face. Here at the Aesthetic Institute we mostly use three types of filler, Restylane, Radiesse and Sculptra. These are all dermal fillers and it will depend on the area to be treated as to which product is used. The results typically last between 8-12 months, depending again on which type of filler is used. Areas that can be treated with fillers are, nasal-labial lines, nose, chin, cheek, and lips. The effects are normally instant except when Sculptra is used as it is usually administered over a number of visits over a number of months, and the results gradually become apparent. The cost for Dermal Fillers varies and will depend on which product is used. Prices start approximately at €350 for one area.

Before and after Dermal Filler Injection into the lips.
Non-Surgical Rhinoplasty
Did you know that you could have a Rhinoplasty without having surgery? Here at The Aesthetic Institute, we offer an alternative approach to changing the appearance of the nose that does not involve surgery. The treatment involves using Dermal Fillers to alter the shape of your nose. Prices depend on the volume of filler needed but start at approximately €350. You might like to read more about rhinoplasty on our website and see "Before & After" photos of patients who have undergone surgical and non-surgical rhinoplasty procedures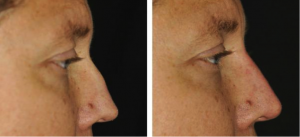 Non-surgical Rhinoplasty.
 Softlift
Softlift is a new treatment, which was developed by Akademikliniken in Sweden and is exclusive to our clinic in Ireland. It uses a combination of Botox and fillers, which is injected into different layers to build up tissue in your face, neck and chest. This restores volume and youthfulness, and gives a rejuvenated appearance. The effects are immediate, very natural and last for 9-12 months, and are not as dramatic as a conventional surgical facelift. The procedure normally takes about 60 minutes and there are generally no side effects.
Prices for Softlift treatments are between €650-800, depending on the volume of fillers and Botox used. Also included in the price is a follow up visit with our Consultant Plastic Surgeon, which allows for minor adjustments to be made to particular areas if necessary
 Fraxel Laser Restore
This treatment involves resurfacing and rejuvenation of the skin using patented fractional technology to target damaged skin. The microscopic laser columns penetrate deep into the skin, targeting only a fraction of tissue at a time. It leaves the surrounding tissue untouched, which in turn promotes rapid healing. It is an excellent treatment for acne and surgical scars, pigmentation, fine lines like those around the eyes, and it also improves the general skin tone and texture. It stimulates your body's own natural healing process, replacing dull, old and damaged cells with glowing, fresh and healthy skin. We recommend a course of between 3-5 treatments to ensure that you get the best results possible. The exact number of treatments required will depend on your desired results, your lifestyle and your preferred downtime. Having laser every 4 weeks will ensure that the skin has had enough time to fully heal before the next treatment. There may be some redness and swelling after the treatment but this normally subsides after a couple of days leaving softer, smoother and brighter looking skin. Prices for Fraxel laser start at €440 and depend on the size of the area you are having treated, the prices can range from €440 to €900 for a course.

Before and after Fraxel Restore laser treatment.
Chemical Peels
As we are affiliated with the Akademikliniken in Sweden, we carry their fantastic product range here in our clinic. The famous AK Peel is sometimes called the "lunchtime" peel as there are few visible side effects immediately afterwards. This is an Alpha Hydroxy Acid peel, which may sound a little scary, but did you know that AHA's are simple sugar acids, which are found in fruit and milk? The gentle acids eat away at the top layer of skin which removes any dead cells sitting on the surface and in turn freshens and brightens skin leaving it smooth, soft and glowing. There are no side effects such as redness, burning, shedding or flaking of the skin with this peel. It is an excellent treatment for sun damage skin, or for problems such as hyper pigmentation, hypersensitivity, thin skin, acne or acne tendency. For best results we recommend that you use the Akademikliniken skincare products following, and in-between your peels. The price of this treatment is €95. For optimum results, we recommend having a peel every 6 weeks or so. The AK peel is offered as a stand-alone treatment or can be done in conjunction with other treatments.
The second type of peel is the TCA peel, Trichloroacetic Acid. This is a stronger peel and is an excellent treatment for reducing wrinkles, scars, uneven skin texture and uneven pigmentation. The old skin peels away and fresh new skin regenerates. There are two levels of concentration available with the TCA peel:
The first is a 30-40% TCA peel. This gives a sharp peeling of the skin to improve sun damage, hyper pigmentation and wrinkles. This treatment is performed by our physicians, and is often done under general anesthesia and requires one week of convalescence. One treatment is often sufficient for a great result. You have seen this type of peel being performed on the TV show 'Ten Years Younger'!
The second is a milder chemical peel with 15% TCA. This treatment is significantly less painful but still gives great results. The healing process with this peel is fairly simple, and many peels can be done over time until the desired result is achieved. As with the AK Peel, the use of Akademikliniken skincare products is recommended following and in-between peels. A consultation with the Consultant Plastic Surgeon is recommended before booking a TCA peel, and due to the hospital costs involved, prices start from €2000.
Phone: 01- 4915738 or email: info@aestheticinstitute.ie